Baaghi Episode 1 review
Urdu1's adaptation of model and social media star Qandeel Baloch's tragically short life is aptly named Baaghi or rebel.
Qandeel shot to fame with an appearance on Pakistani Idol, a series of sexy videos and an almost surreal encounter with Maulvi Qawi, all of which made clear that Baloch was a woman determined to live life on her own terms. Such defiance, especially such defiance from a woman, rarely goes unpunished in a conservative society like ours and she paid the ultimate price: murdered at the hands of her own brother in the name of honour.
The first episode shows us less Qandeel and more of the original Fouzia Azeem. A free spirit, she revels in attention. She dances with abandon at the local Chaudhry's wedding and seems to be in a long-running battle with the men of her locality, who are drawn to her like moths.
Writers Umera Ahmed and Shazia Khan have given her character both depth and nuance; the same Fouzia obsessed with lipsticks and a lifestyle she can't afford is also a loving sister and a caring daughter.
Fresh off her triumph in the hit Bollywood movie Hindi Medium, Saba Qamar plays Fouzia straight from her heart and if this first episode is anything to go by, this may well be one of this talented actress' most memorable roles yet.
Life isn't easy for the women in this poor, deeply conservative, rural corner of the earth; constantly restricted and taught to hide from the unrestricted power of the male gaze that thinks any female is fair game if they can be caught. The rickshaw driver harassing women on an empty road, the men staring down from the rooftops at the Chaudhry's wedding and the cat-calling roadside Romeos are all accepted members of society, while women live their lives in a constant state of siege because nothing is expected of those men but everything is expected of those women.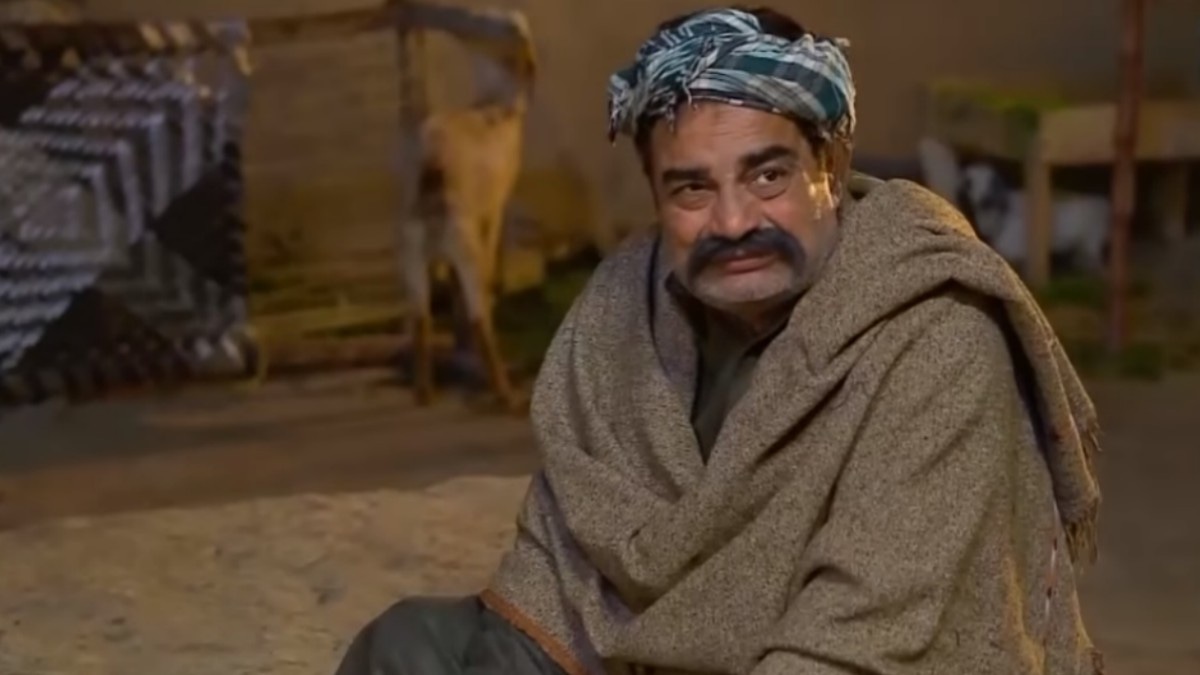 Baaghi boasts a stellar cast, with the likes of Irfan Khoosat, Ali Kazmi, Osman Khalid Butt, Nadia Afghan and actor/director Sarmad Khoosat in leading roles. Irfan Khoosat makes for an interesting father, who (unlike traditional screen fathers) seems unable to criticise his loving daughter.
Umera Ahmed is a master at adding small, well-observed details to make her characters so believable. Her wry, almost comedic take on Fouzia's older brother and tattle tale bhabi are reminiscent of the self-important Mamoo and Mamani she built up in Daam — quick to judge and so completely blind to their own faults that they verge on the ridiculous, but easily recognisable as friends and relatives we all have.
Sarmad Khoosat and Nadia Afghan are fabulous as the long suffering guardians of respectability in their family. Ali Kazmi is equally impressive as the shop keeper who falls for Fouzia on their first interaction. His good looks, expensive-looking watch and hole-free roof, combined with the smooth patter he has about everything made in Dubai make him a lethal combination for a small-town girl like Fouzia.
On a technical level, director Farooq Rind has put this episode together with a surprising level of finesse. On the minus side, however, the levels of grooming afforded Sarmad Khoosat and Ali Kazmi added to Saba Qamar's way too expensive looking wardrobe definitely detract from the authenticity of the scenes.
Saba Qamar is a good actress but she is definitely not a teenager. Some of her dialogues and effervescent gestures seem forced at times. And her perfectly coiffed hair and well-matched , brightly coloured clothes speak more of a slightly better-off woman from Karachi than an excited seventeen-year-old from such a poor background. Some of this could have been avoided with the right camera angles and some intelligent, more minimalist styling.
In this way Baaghi's filmi flavour is like sugar, sweetening the first episode to entice its audience — but raw authenticity might have worked even better, allowing the audience to understand what made Fouzia Azeem become Qandeel Baloch.
Just like its namesake, this drama has created controversy since its inception, angering people who think such a focus would only glorify Qandeel's life choices. According to the writers, the main storyline follows Qandeel Baloch's life but there have been additions from other stories of small town girls with dreams of making it big in show business.
In one scene, Fouzia says very tellingly, "I am my own prince", in a way declaring that she can not only save herself but that she can also make her own future. Did she possess such awareness at this point in her life? The writers have used a lot of literary license as they could not interact with Qandeel's family due to legal issues so these slightly feminist sounding dialogues seem like a little constructed and a little too easy at times.
Writer Shazia Khan contends the serial is a lesson in what happens when the "wrong path" is chosen and the "bura anjam" it leads to. Similarly veteran writer Umera Ahmed says Baaghishows us the circumstances that lead a girl like Qandeel to "sell" her "honour". In this way there is an intrinsic value judgment in their attempts not to "glorify" Qandeel, which gives the story an inevitable bias. However, both authors argue that they kept a balance by showing both light and dark shades in her character.
In her last interview with Images Qandeel claimed, "I faced so many difficulties, you know what happens with girls here. You know what kinds of offers they make girls here. You know how they try to misuse girls who are new to the industry. You could say that this is my revenge [from this country]. I don't do these things happily."
This serial runs the risk of superimposing its own image of Qandeel over the original, whether it's making her into some kind of feminist icon or turning her into a morality lesson. She alone knew how much of the shocking persona she projected was real and how much was fantasy.
Her "revenge" seemed very much about using the power of her sexuality to her own advantage. Saba Qamar brings home a lot of that devil-may-care bravado but leaves room for the charm and vulnerability that allowed people to connect with the YouTube star from Multan.
Like every fictionalised account, this serial runs the risk of superimposing its own image of Qandeel over the original, whether it's making her into some kind of feminist icon or turning her into a morality lesson. She alone knew how much of the shocking persona she projected was real and how much was fantasy.
Just like the rest of us, the writers have had to use the persona Qandeel created for herself to understand her, mining her videos and the interviews given by her parents to understand her personality.
If director Farooq Rind can keep the filmi style from overpowering the story, this looks like a fascinating serial to watch.
As long as we keep in mind the creative liberties taken in this retelling, we might be able to appreciate Qandeel's life in all its strange, dysfunctional glory — some us may not want to recognize it as such but that doesn't mean it doesn't exist .
Sadaf Haider
This review also appeared in https://images.dawn.com/news/1178087/baaghis-qandeel-baloch-is-brave-flawed-and-ultimately-a-fiction